E-Commerce Carousel Applications
With today's business models focused on smaller orders shipping direct to consumer, distribution center labor cost-per-transaction has increased significantly when using outdated methods best suited to large order pallet shipments. Piece-picking carousel automation reduces transaction costs by eliminating batch-sizing constraints, searching for product, and walking to item locations.

Benefits to AS/R System's E-Commerce carousel applications include:

1) Unlimited Batch Sizes – Take advantage of common parts between orders, minimize batch setups, and eliminate shuffling through multiple paper tickets. As operators aren't limited by batch sizes, filling up push-carts, or manually sorting through pickslips – AS/R's Magic Warehouse E-Commerce module lets the operator pick as many single or multi-line orders as they choose in a single batch.

2) Pick. Pack. Ship. – Since all items present themselves to the operator & there's no time wasted walking and searching for product, operator workstations can be optimized to include bagging, shipping systems, and packing slip activities. Pick, pack, & ship orders from over 10,000 SKU's in a single step - without leaving your workstation!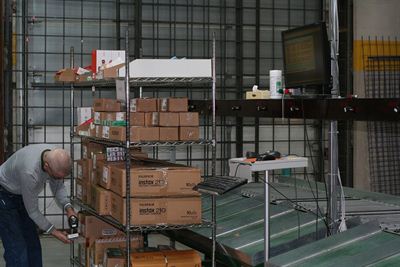 AS/R provides ecommerce carousel applications that optimize your warehouse product retrieval, packing and shipping process.