Low-Cost Rebuilt Vertical & Horizontal Carousel Systems
AS/R Systems remanufactures, customizes, and integrates horizontal & vertical carousel systems from White Systems, Kardex-Remstar & Diamond-Phoenix ... at a fraction of the price of new. With over 25 years in business & 50,000 square feet of carousel rebuilding capacity throughout Canada and the U.S., AS/R's in-house sales team, engineering, software, & support ensures our customers' expectations and business goals are met through a single horizontal carousel solution provider.
AS/R Systems has over two decades of experience providing customers with complete turnkey carousel systems and software integration in all types of industrial applications, including:
Our Magic™ Warehouse carousel software is specifically developed for horizontal carousels to increase carousel production capacity while simultaneously reducing picking errors.
For over 25 years, AS/R has been rebuilding, installing and maintaining rebuilt horizontal and vertical carousels for our customers. All carousel systems are rebuilt to "like new" condition at a fraction of the cost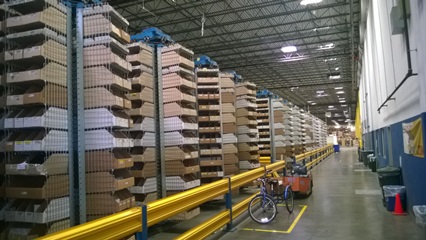 Turnkey Carousel Systems
Reduce Capital Spending by 40%-50%
Full 2-Year Warranty
Like-New Carousel Systems
Large Inventory to Select From
Magic Warehouse™ Software
OEM-Like Parts and Service
Much Lower Capital Investment
AS/R Rebuilt™ Goods-to-Person Technology Transfer
"Like-New" G2P Solutions with "Like-New" Support
Tour a Client Operation
AS/R Helps Integrate Supply Chain Automation
AS/R Systems worked with a client recently to optimize warehouse space and labor costs by integrating VNA (Very Narrow Aisle) technology with a dual horizontal carousel system that minimizes space requirements and provides an efficient G2P (Goods to Person) automated picking method.
Watch the video to see how the client operation works, and how AS/R might help your company, then read the related article published in Modern Materials Handling magazine for more details on the hardware and software integration.